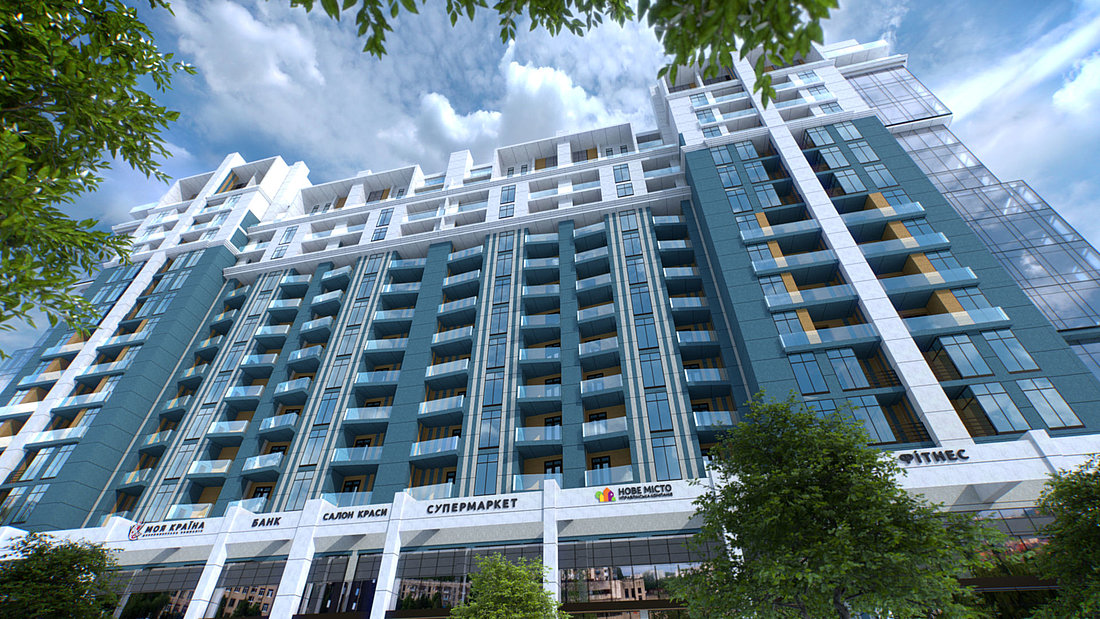 This is the first residential complex in Lviv that is made according to the highest quality, safety and comfort standards. By buying commercial or residential property from us you get the maximum benefits.
THE BIGGEST UNDERGROUND PARKING LOT IN LVIV

There are 288 parking lots with the charging spots for the electric cars. You can use the elevator to lift yourself up from the parking lot to your apartment.

THE CAR-FREE INNER YARD

The total area of 6000 square meters could be compared to the football stadium. Shaped by the modern landscape design, recreational areas and outdoor street simulators.

OWN INFRASTRUCTURE

There is 7000 square meter area reserved for shops, banks, cafes, restaurants, short hall etc.

ALL-INCLUSIVE SECURITY SYSTEM

Closed area. Video surveillance system across the residential area. Guards. Fire extinguishing system. The police officer's office and the office of the State Emergency Service of Ukraine.

CONVENIENT PLACEMENT

It is 10 minutes driving distance to the city center and Stryiskiy bus station, Shopping malls `King Cross Leopolis` and `Victoria Gardens`. It is 15 minutes walking distance to Stryiskyi park and Gorikhovyi Hai (Nut Grove). There are two schools, post office and `Dynamo` stadium nearby. `Ukrainian silicon valley` ІТ-park `Innovation District IT Park` would be placed nearby.

KINDERGARTEN

There is a separate yard for the kids. Center for Children Development "Lviv Montessori School", art and sport clubs.

40 DIFFERENT APARTMENT PLANNING OPTIONS

There are one-, two- and three-room apartments, two-level apartments. All of them have the landscape window view. Two-level apartments have solar thermal collectors.

WIDE ENTRANCE HALLS

Each entrance hall has two elevators, with the special space for the concierge, free space reserved for bicycles, strollers and WCs.

ENERGY-SAVING

Individual heating systems, solar panels and solar thermal collectors , rainscreens and double-pane windows will ensure the heat and create the soundproofing.

PREMIUM CLASS MATERIALS

Outer walls are made from ceramic blocks Parotherm, innerwalls - from bricks (250 mm). Outer facade: insulated by mineral wool (150 mm), decorated by noise-absorbing and "breathing" ventilated façade. There is structured glass façade with tempered and tinted glass.
We have designed the apartments fitting to all kinds of needs and any type of budget. Choose your dream option from a set of 40 planning options: studio or general one-, two- and three-room apartments and two-level pent-houses on the top of the buildings. Smart planning is made in a way to avoid dysfunctional areas and minimize your annual utility bills.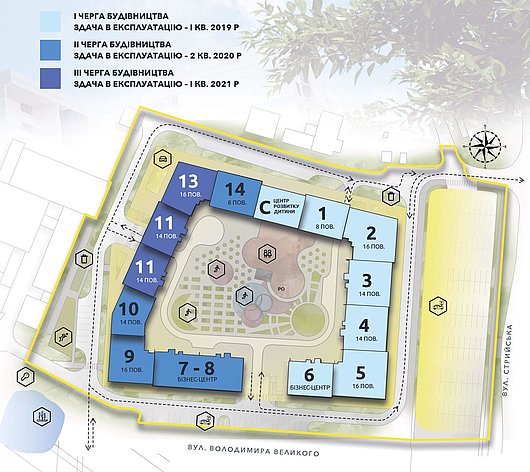 Each building (section) will be put into operation one by one as soon as the construction works are finished and the communications are connected. You can start the renovation works the moment you get your documents.
| | | | |
| --- | --- | --- | --- |
| | City center | 5.2 km | 14 min |
| | Stryiskiy park | 900 m | 11 min |
| | Bodnarivka park | 800 m | 5 min |
| | Horikhovyi Hai park | 900 m | 11 min |
| | School №48 | 950 m | 12 min |
| | School №36 | 1.9 km | 23 min |
| | 'Stryiskyi' Bus station | 3.5 km | 9 min |
| | 'King Cross Leopolis' shopping mall | 4.4 km | 12 min |
| | 'Victoria Gardens' shopping mall | 5.6 km | 16 min |
| | 'Dynamo' Stadium | 750 m | 9 min |
| | Tax Office of Lviv Region | 500 m | 6 min |
| | Raiffeisen Bank 'Aval' | 240 m | 3 min |
| | WOG Gas station | 650 m | 3 min |
| | Nova Poshta. Office №39 | 500 m | 6 min |
| | Night club 'De Luxe сafe' | 400 m | 6 min |